Vintage Treasures: 5 Items We're Eyeing On Vestiaire Collective
Nothing haunts us more than missed fashion opportunities, like items from past seasons or even historic vintage pieces you wish you could get your hands on. But now, Vestiaire Collective is giving unique fashion pieces a second chance at life. The online community has five million members from around the world, with more than 25,000 vintage items posted each week.
We've rounded up the top five vintage items that we're keeping a close eye on:
1/5 Azzedine Alaïa little black dress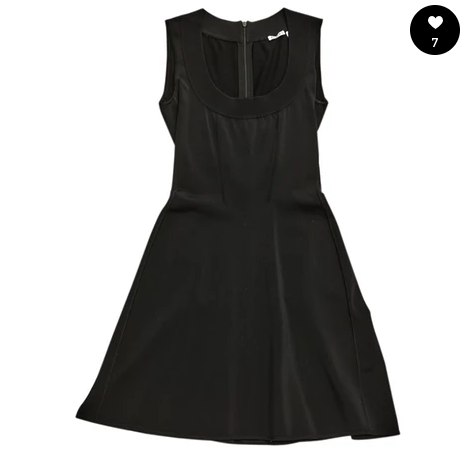 The fashion world was struck last week with the sad news of the passing of Azzedine Alaïa. The original "King of Cling" was a legend who dressed some of the most powerful women in the world, from Michelle Obama to supermodels Naomi Campbell and Cindy Crawford.
A treasure trove of Alaïa's designs, both past and present, can be found on the website in pristine condition. And if there's one thing that will never go out of style, it's a little black dress by Mr. Alaïa. With its tight-knit fabric and form-fitting silhouette, it's a wardrobe piece you will revisit constantly.
Available on Vestiare Collective
2/5 Yves Saint Laurent blouse
A well-cut silk blouse is a great wardrobe staple for any woman. This vintage Yves Saint Laurent blouse in light yellow silk with a ruffled collar and paisley print is a piece you can revisit from season to season and year to year.
Team yours with a pair of tailored trousers or jeans, and a pair of round sunglasses for a nod to the 1960's.
Available on Vestiare Collective
3/5 Cartier Tank watch
The iconic Cartier Tank watch dates back to 1917 and was designed by Louis Cartier. While the Tank timepiece is offered up in a variety of styles, faces, hardware and straps, it's refreshing to see one with a simple face.
This piece features a geometric matte black face, delicate gold numerals, gold hands and a sapphire cabochon.
Available on Vestiare Collective
4/5 Hermès Kelly handbag
Are you a Kelly girl or a Birkin girl? Either way, Vestiaire Collective has a wide range of Hermès handbags that will leave you scrolling for hours.
This Kelly handbag in 35cm dates back to 1953. And with its brown leather trim on a rare colour canvas, it's the perfect one-of-a-kind companion for your next holiday or a day out in the city.
Available on Vestiaire Collective
5/5 Paco Rabanne disc dress
Thinking about what to wear to the upcoming holiday parties? So are we. And nothing will make more of a statement than this vintage Paco Rabanne disc dress. This museum-worthy dress is one of the Spanish designer's most iconic creations from the late 60's, while variations of this dress have been spotted in James Bond Casino Royale (1967) and on Audrey Hepburn in Two for the Road.
Available on Vestiaire Collective