Sense Of Place: Censu Is A Homecoming For Ex-Fukuro Chef Shun Sato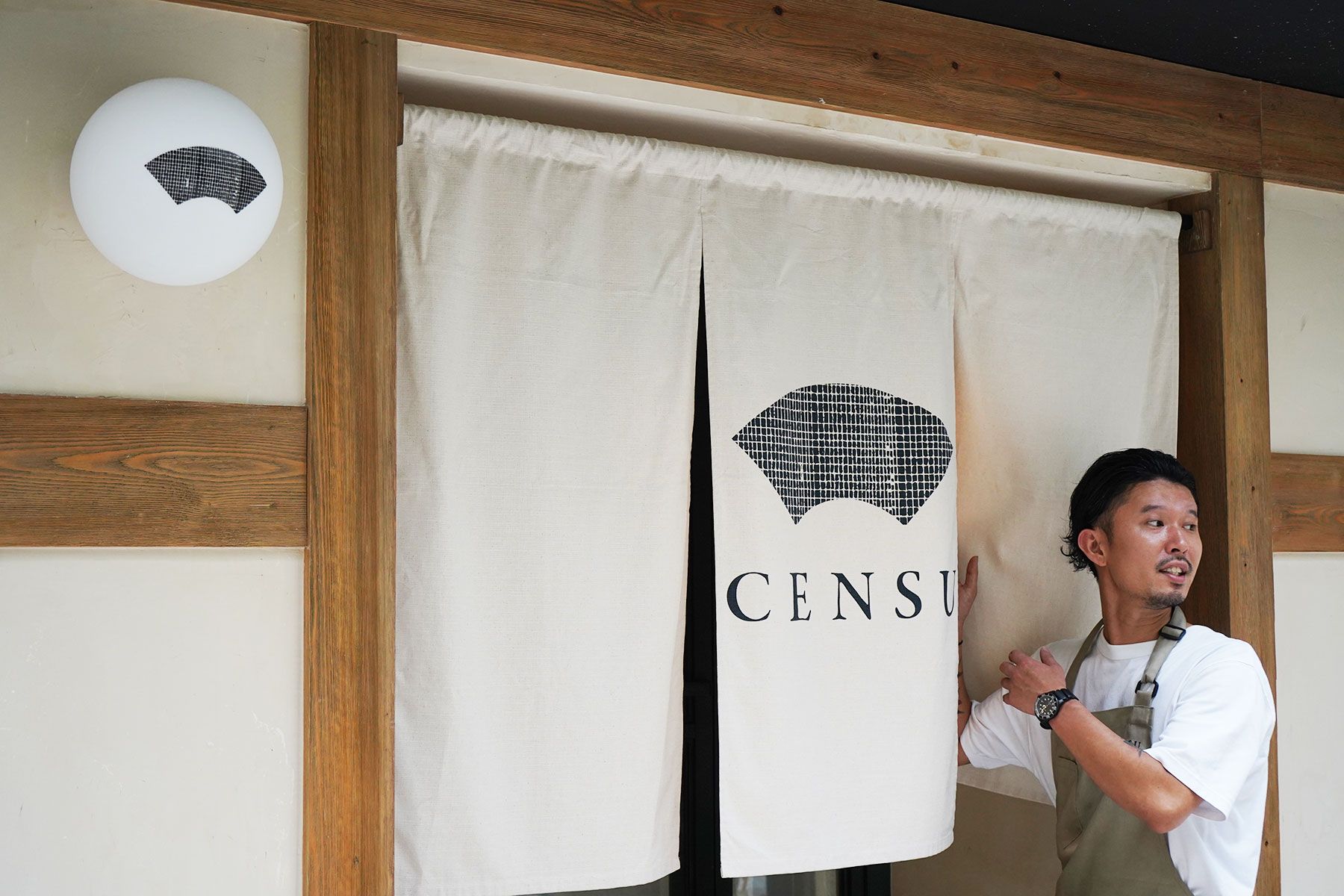 By Gavin Yeung
June 24, 2021
Shun Sato's new Sheung Wan restaurant recreates a slice of his upbringing in Japan, yet his cooking is more quietly confident than ever
Shun Sato has grown up. Having left his post as head chef at stylish late-night izakaya Fukuro last year, the Sendai native resurfaced in May to host a pop-up with Kyoto gin label Ki No Bi at Sake Central under the banner of his new contemporary Japanese restaurant, Censu. With the imminent opening of his own project, Sato is keen to show the city that he's in a more authentic place.
If Sato's last stint at Fukuro catered to Soho's imagined Japanese salarymen, then Censu (the word for 'folding fan' in Japanese) is the village ryokan (guesthouse) that these same office workers have decamped to in the countryside following their retirement from the corporate Tokyo life. Found halfway down Sheung Wan's Gough Street, Censu's facade—a sakan-plastered, half-timbered affair inspired by his grandmother's home in Sendai—has seemingly been transplanted directly from the Japanese countryside, so subtly jarring is its effect.
See also: Kosei Kamatani On Why Mong Kok Street Food Would Be His Last Meal
Stepping through the noren curtain at the entrance, the wabi-sabi effect continues indoors. Designed by Jamo Associates (who were also responsible for the design of Tokyo's Trunk Hotel), the 40-seat interior—about the same size as Fukuro—is spartan but tastefully so. The walls, painted a rustic beige, are rounded at the corners (a minute but important detail that Sato says is commonplace in Japan but absent in Hong Kong); an open kitchen allows the flurry of activity to bleed into the dining space; and hip-hop plays at a background volume over the speakers. On the far wall, a tapestry made using discarded scraps of denim clues diners into Sato's sartorial sensibilities, who himself is a devotee of Yeezy sneakers, Visvim kimonos, and silver jewellery by the legendary Goro Takahashi.
Censu, explains general manager Keaton Lai, is the embodiment of the five senses. "It's a part of the wabi-sabi culture: we want things to age, we want things to get torn, this is how things are going to be. Things aren't gonna be polished forever." The centrepiece walnut table and the walls are supposed to get banged up, he continues. Guests are encouraged to wear raw denim to the restaurant so that the indigo taints the fabric of the seats.
"This is a more natural thing," Sato adds. "Tomorrow, it will be even more beautiful."
Related: At Newly Opened Masa Hong Kong, Dry-Aged Sushi Is The Star Turn
The concept of patina can be keenly felt in Sato's dishes for Censu, too. On first glance they could be likened to izakaya dishes, yet the chef, himself the son of an izakaya owner, is at pains to distance his new restaurant from that category, given Censu's focus on the food rather than the alcohol. Upon closer inspection, his dishes reveal a pared-back sophistication honed over a career spent in the kitchens of Sydney's Yoshii and Blancharu, London's Aqua Kyoto, and Belon here in Hong Kong.
The menu opens with the squid white kimuchi, a light sharing appetiser of ika somen (raw squid noodles) mixed with strips of white kimchi then laid artfully in a green apple and daikon broth, resulting in a tangy melange of textures both crunchy and chewy. The zucchini flower tempura is an umami bomb thanks to a base puree of shiitake mushrooms, Madeira wine and truffle, while the deep-fried Dutch zucchini flowers are stuffed with scallop prawn mousse to sensational effect.
Then there's the "unigiri", a combination of uni and onigiri that rests in an abalone dashi broth; on Sato's directions, I break down the rice ball and mix it with the dashi for a sublime bite that reveals the sweetness of the uni, the delicate umami of the rice, and a herbal quality from the shiso peppered within.
See also: Okra Hong Kong Is Closing In July
True to word, the drinks list is concise, separated into highballs that mix shochu and Ramune soda with garnishes frozen inside of hand-cut ice, dependable Japanese whiskies, craft sake, and natural wines sourced from La Cabane.
As I chat with Sato and his team, words like "mellow" and "laidback" are thrown around. Speaking of the design, he says, "to all the designers [of the interiors and branding], I didn't say anything. I just gave a topic and let them do what they want". On his time at Fukuro, he's equally unfazed. "If they compare [Censu with Fukuro], they'll compare," he shrugs. For all intents and purposes, Sato has reached a state of near-equilibrium, and Censu feels like a homecoming. The imperfect is perfect, and he's happy to let others leave their mark on him, for his restaurant to wear into the fabric of the community—just like a new pair of jeans.
Currently in its soft opening phase, Censu will officially open to the public on July 15.
Censu, 28-30 Gough Street, Central, Hong Kong; +852 2997 7009