The De Villepins On Their Long Friendship With South Korean Artist Myonghi Kang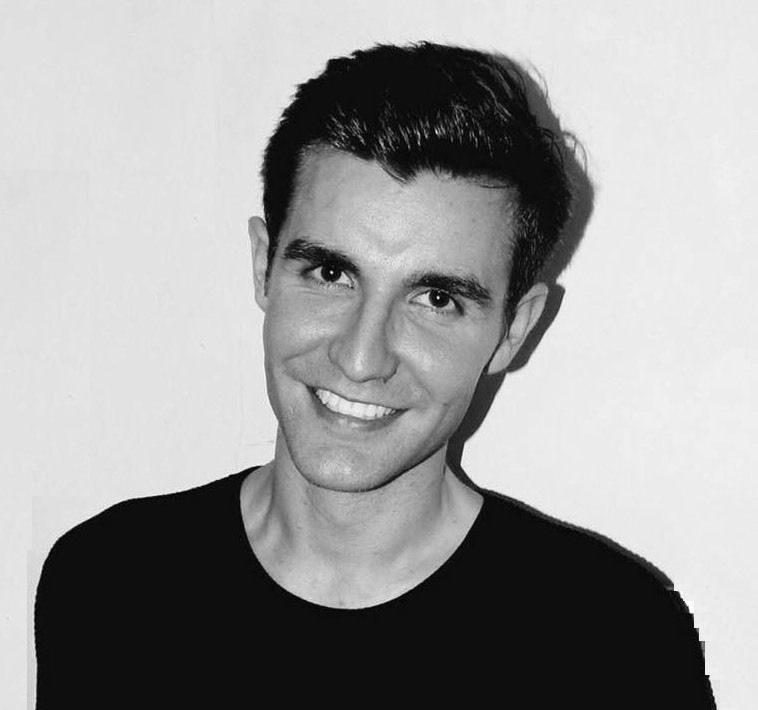 By Oliver Giles
June 10, 2021
The De Villepins have been fans of the mysterious, under-the-radar South Korean artist Myonghi Kang for decades—now they're putting her in the spotlight
For as long as he can remember, Arthur de Villepin has lived with paintings by the artist Myonghi Kang.
"Her art was always hanging in my family's homes," says Arthur, who last year opened a gallery in Hong Kong with his father, former French prime minister Dominique de Villepin. "And in 2010, when I was leaving home to move to Hong Kong, my parents said to me, 'What do you want to take?' I chose three African masks and a small Myonghi drawing. It has some gold in it—in certain light it sparkles."
Arthur still owns that drawing, which he now keeps in his bedroom next to another painting by Kang. Downstairs, a large canvas dominated by vivid splashes of green hangs above his dining table. Every morning, he admires it while he eats breakfast. Across the world, in Paris, a painting by Kang is one of the first things his father Dominique sees when he wakes up. Dominique has two other paintings by Kang hanging in his living room.
"Myonghi's paintings are a big part of my life," says Dominique. "They are not decorative—they have meaning, and every time I look at them, I see something different."
See also: A Family Affair: Dominique & Arthur de Villepin On Opening A Gallery In Hong Kong
After years living with Kang's works, the De Villepins are now sharing them with others: from this month until October, they are hosting a solo exhibition of her paintings in their three-storey gallery in Hong Kong's Central district, and they are already looking further afield. "We are also speaking to a museum in northern China about an exhibition and hopefully in the next few years we will bring her work to the US and to Europe," says Arthur. "A small group of collectors have followed her and been very faithful in the way they've collected her art, but I really want to share her work with a wider community."
Kang is something of an enigma. Her moody, meditative paintings have been exhibited at leading museums around the world, including the Pompidou Centre in Paris and the National Museum of China in Beijing, but her work has never appeared at auction at Christie's or Sotheby's and she has never been consistently represented by a major gallery. "She is not interested in the art market," says Arthur. "She makes her work without compromise. She has built bridges with the past, with nature, with people, with light, with shadows, but not with the market—she doesn't want to get into that, it's my role to help with that."
Kang was born in 1947 in Daegu, South Korea, where she grew up during the Korean War, the daughter of a single mother who was a civil servant and encouraged Kang's interest in art by reading books to her on European masters. As the country was torn apart, the young Kang found solace in the paintings of Courbet and Cézanne that she saw in their pages, as well as in the natural world. "Looking at nature was a way to avoid looking at war," says Kang, speaking over the phone in a rare interview from her studio on Jeju Island.
See also: Artist Christine Ay Tjoe Discusses Finding Inspiration In Nature And Her New Exhibition In Hong Kong
In 1972, when the political situation in South Korea was deteriorating further, Kang fled the country before the military dictatorship imposed martial law. She moved to France, to a small village in Provence, where artists such as Cézanne, Matisse and Van Gogh famously found inspiration in the region's golden, Mediterranean light and idyllic landscapes.
By the early Eighties, Kang was splitting her time between Provence and Paris, where she became friends with some of the city's leading artists, philosophers and poets, including the late Zao Wou-ki, who is now one of the most celebrated Chinese artists of all time. It was in the French capital where she began honing her signature style: layer upon layer of cream, beige or brown paint topped with daubs of rich colour. Although they can appear totally abstract, many of these images are inspired by a specific sight, such as a particular tree, the play of light across a field, or drops of water snaking down a window after a storm.
Myonghi's work is a strong invitation for all of us to have more respect for nature
Kang sometimes paints outside, but also keeps studios in rural France, in Paris and on Jeju Island. She normally shuttles between the three but has been stuck in South Korea since the start of the pandemic. "On Jeju, I have a studio in an old warehouse surrounded by orange trees where I make my large paintings," says Kang, whose pieces can be more than three metres wide. She has another studio on the island where she works on smaller pieces, often sitting by a window that looks out over a dramatic hillside. And sometimes she paints outside, setting up her easel by the sea or on the slopes of Hallasan, the volcano that sits at the centre of Jeju.
"In France, I have an apartment in Montparnasse in Paris, where I paint trees from my window, and a farmhouse in the countryside," says Kang. "At the moment there is a half-finished painting in the farmhouse of a cherry tree. I keep thinking about it."
See also: South Korean Artist Minouk Lim Talks About Her Creative Practice And Being Part Of Para Site's "Curtain"
Although the painting of the cherry tree is playing on her mind, it is not unusual for Kang to take years to finish a piece. A painting in the show at Villepin, Noyée, was started in the Seventies and not finished until 2017.
One reason Kang can take so long is that she has no set routine. "I don't like to impose a rhythm on my days," she says. "If it's raining and I can't go to the mountain, then I'll go and spend the day by the sea. I let myself be guided by the environment." Some days that means stopping an existing painting to start a new one; others it means adding to an unfinished painting last touched a decade ago, then putting it away for another ten years.
Another reason is that she is an avid traveller. She often travels alone to remote places with extreme climates to find inspiration. Two of her favourite destinations are Antarctica and Mongolia, each of which she has been to nine times. Wherever she goes, she always carries a notebook and some pastels or watercolours to sketch. The last time she was in Hong Kong, she spent hours in the Zoological and Botanical Gardens drawing tropical plants.
Occasionally Kang's travel plans are as unpredictable as her work schedule. "Sometimes she calls me and says, 'I'm coming to Hong Kong tomorrow,'" says Arthur, laughing.
See also: Graffiti Artist Futura Discusses His New Space-Themed Exhibition In Hong Kong
Kang and the De Villepin family have been friends since the late Nineties, when Dominique met her at a Zao Wou-ki exhibition. At the time he was secretary general to Jacques Chirac. "But I know Dominique more as a poet than as a politician," says Kang.
The pair quickly struck up a friendship and Dominique immediately began collecting her work. "I was amazed by the authenticity of what I saw: bursts of colours, a multiplicity of different forms," he says. "She draws influences right from ancient cave paintings to European painting and Asian traditions. And Myonghi's work is a strong invitation for all of us to have more respect for nature."
Kang was similarly moved by Dominique's writing—he has published more than a dozen books, including tomes on French history, literary criticism and his own poems—and began inviting him to her "poetry and painting parties", evenings where philosophers and writers read their work in front of her art. Dominique has since composed several poems directly inspired by Kang's paintings, which he has read at these events in Seoul, Beijing and Paris.
The De Villepins' affection for Kang's work is perhaps most clearly seen in the extensive remodelling of their gallery for this show. For their previous exhibition, which featured six artists who lived in France after the Second World War, they transformed the gallery into a chic Parisian apartment, complete with curvy Pierre Paulin sofas and piped jazz playing softly in the background.
Her paintings are not loud—you have to take a moment to let them sink in
For Kang, they are turning it into a calming, contemplative space that evokes caves and forests. Visitors will enter through a 180-year-old wooden door, sourced specially for the exhibition from a village in China, into the ground floor gallery, which will be painted a dark grey, so that the colours in Kang's paintings will pop. As gallery-goers move upstairs, the walls will gradually fade to white, turning the whole exhibition into a journey into light. The team are also installing new windows into the building, which will then be covered in Korean paper, so that some rooms will be filled with soft sunshine.
Interspersed throughout the space will be floor-to-ceiling pillars made from unvarnished tree trunks. At the time of writing, Arthur was also investigating whether it was possible to move a living tree onto the gallery's second floor. "And I have a team at the moment on Jeju recording the sounds of the island—the wind in the forest, the waves," says Arthur. "If it's interesting, we might play it in the gallery."
"The renovations are really Arthur's commitment to making every show as special as possible," says Dominique. "Every artist's world is different, so every exhibition should be a different experience. And changing the environment, changing the gallery, can facilitate greater understanding of the art."
Arthur hopes visitors to the show will be as moved by Kang's work as he has been since he was a child. "Her paintings are not loud—you have to take a moment to let them sink in," he says. "But then they can provide a purer way of looking at nature, of looking at life."
See also: Hong Kong Comic Artist Li Chi Tak On Mapping The Pulse Of Sham Shui Po With Schoeni Projects
---
Myonghi Kang: Origins runs until October 2021 at Villepin, Hong Kong