All The New Cafes To Visit This July 2021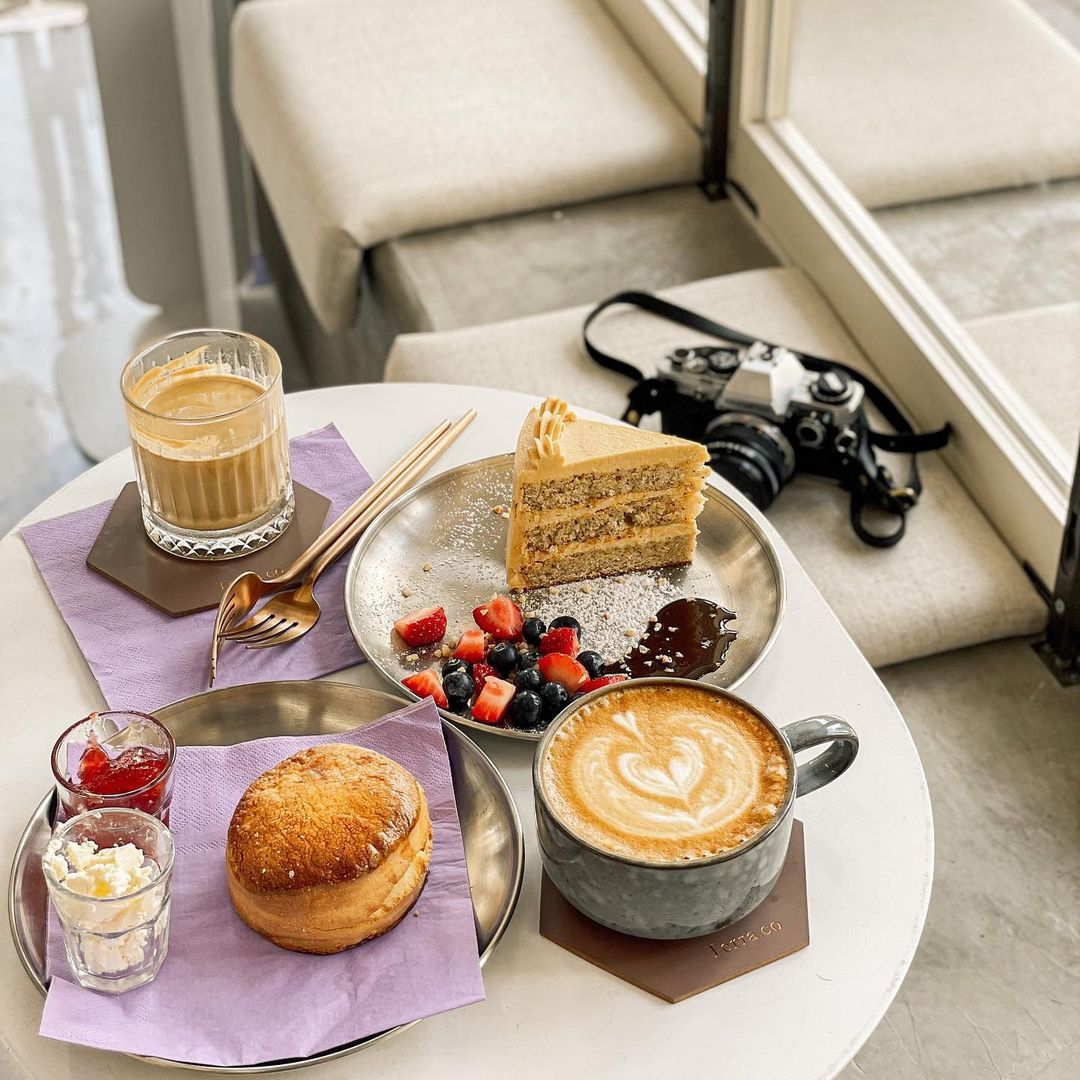 Find out where to get the best coffees this summer to escape from Hong Kong's sweltering weather.
Whether you're looking for a steamy cup of coffee or a wide array of sweet treats, Hong Kong's seemingly endless selection of new cafes has something for you. From corner stores for grabbing coffee to cosy spaces perfect for studying, the 15 cafes featured in this article are the ideal places to get a caffeine fix.
See also: Introducing Illy At Haus, A New Italian Coffee Pop-Up In Central
1/17 The Salfee Bar
Check out the newly opened branch at Quarry Bay, featuring a wide selection of salads and coffee. This vegan-friendly bar classifies salads based on their health benefits, including immune boost, heart guardian and anti-aging. You can also choose a fruity or nutty coffee to go along with your salad. The Salfee Bar suits those in search of something healthy and refreshing.
The Salfee Bar, G/F, 34 Hoi Kwong Street, Quarry Bay, Hong Kong
2/17 Knockbox
Found in the jam-packed neighbourhood of Wan Chai, the shopfront of Knockbox stands out from the crowd. With a facade that features two movable metal rings that resemble a coffee taster's flavour wheel, the cafe puts an emphasis on the colours in coffee, encouraging customers to visualise their coffee-drinking experiences with the shop front. A cup of "red honey catuai" is only as different as a "long black". Let Knockbox lead you to see the beauty in coffee and to "taste" out of the box.
Knockbox, 3 Burrows Street, Wan Chai, Hong Kong
3/17 Cosha
This warm-coloured cafe situated in Central is the perfect place for an Aussie-style brunch. Delight your taste buds with their signature UFO and Crispy Gee brunch dishes, which not only taste exquisite, but also look Insta-worthy. The beautifully coloured smoothies that pair up with the savoury dishes are also worth a try. Let an icy Super Strawberry Smoothie or Mango Hill Smoothie help you beat the sweltering heat.
Cosha, G/F, 61 Elgin Street, Central, Hong Kong
4/17 Yama Coffee
Located in the busy neighbourhood of Yau Ma Tei, Yama Coffee takes you on a short vacation to Japan, as its design is based on a Japanese theme. The cafe is segregated into two floors—the lower level mainly serves takeaway, while the upper level provides a variety of services, including tarot reading and painting. Their latte is crafted with Hokkaido coffee beans and 3.7 milk, giving it a rich, silky aftertaste.
Yama Coffee, 15 Pitt Street, Yau Ma Tei, Hong Kong
5/17 Latter Cafe
Immerse yourself in the atmosphere of Paris with this French-style cafe. Located in Wan Chai, the creamy yellow shop front alongside with black and white floor tiles adds an aesthetic touch to the entire street. Combining the words "Latte" and "Letter", Latter hopes to deliver warmth to customers through their coffee that feels like handwritten letters. Don't forget to order their fusion dessert, the Thai mango glutinous rice chiffon cake, which has gained continuous positive reviews online.
Latter Cafe, Kam Sing Mansion, Shop E, G/F, 151-161 Jaffe Rd, Wan Chai, Hong Kong
6/17 Mixo
With a mixology of coffee and flora, the elements of Mixo bring its guests tranquillity. Natural light slips through the windows into the dark, moody interior, creating a contrast that keeps the space cosy and relaxing. There are four types of coffee beans which can accommodate a wide range of preferences: Colombia Natural, Mexico Anaerobic Honey Roll, Uganda Natural and Colombia Washed. Pamper yourself with a cup of well-balanced coffee.
Mixo, G/F, 26 Tai Ping Shan Street, Sheung Wan, Hong Kong
7/17 Uchi
A well-known photogenic cafe with three other branches in Hong Kong, be prepared for the long queues that may appear in this newly-opened Tseung Kwan O store. The zen interior consists of a tatami corner for those in pursuit of an authentic Japanese experience; throughout the cafe, the minimalist design also makes it a great spot to chill out and take a breath. Grab your chance to order the Pure White Strawberry Egg Roll, which is only available in the new branch.
Uchi, G/F, Shop No.16, Monterey Place, 23 Tong Chun Street, Tseung Kwan O, Hong Kong
8/17 Mad Coffee Co
Caffeine lovers in Sham Shui Po will be delighted to hear that Mad Coffee Co will be opening a new branch, making its assortment of flavoursome coffees available to the neighbourhood. Customers can enjoy coffee which has been sourced from all over the world, then roasted locally with love and care. To go with the coffee are Taiwanese egg crepes, as well as a wide assortment of breakfast and lunch items.
Mad Coffee Co, 208 Tai Nan Street, Sham Shui Po, Hong Kong
9/17 From Scratch
With an ash-coloured theme and a room filled with lush greenery, From Scratch is as Instagram-worthy as it is delicious. Located in Sai Ying Pun, the chic cafe serves light meals, pasta, desserts and a variety of drinks. Some of the items on the menu so far include a slow-cooked beef ragu penne, a butterscotch mochi and refreshing lychee soda.
From Scratch, 21 Western Street, Sai Ying Pun, Hong Kong
10/17 Posh Coffee Club
As its name suggests, Posh Coffee Club is stylish and luxurious, with a minimalistic, industrial design. Conveniently located next to the Lai Chi Kok MTR station, Posh Coffee Club hopes to bring the community together. One of the drinks offered is milk coffee, which comes in two options: nutty or fruity. Alongside the drinks is an assortment of unique cakes and bagels: an example is their earl grey flavoured bagel which has little pieces of dried mango inside.
Posh Coffee Club, Unit 2B, G/F, Cheung Lung Industrial Building, 10 Cheung Yee St, Lai Chi Kok, Hong Kong
11/17 Kaffee Jen
With its zen, Japanese-style decor, Kaffee Jen creates a relaxing retreat for coffee lovers in Tuen Men. To pair with the coffee, customers can choose from Kaffee Jen's range of baked goods and pastries, which includes flaky croissants, a rich chocolate muffin, and delicate madeleines.
Kaffee Jen, Shop 3, G/F, 4 Kin Fat Lane, Tuen Mun, Hong Kong
12/17 Our Terra
Enclosed in futuristic grey walls and an open sitting area which lines the perimeter, Cafe Terra's galaxy-inspired interior features purple marble counters and electric blue decor. The creative cafe can be found in Cheung Sha Wan, where customers can enjoy their coffees while watching people come and go on Po On Street. Cafe Terra offers everything from salads to toast to elegant desserts such as Basque cheesecake, scones, and waffles.
Our Terra, 65 Po On Street, Cheung Sha Wan, Hong Kong
13/17 Trial Coffee
With a vibrant orange exterior, Trial Coffee catches the eye of passers-by immediately. The little coffee corner, which is nestled in Wan Chai, is the perfect place to grab a coffee to-go before a busy day. The coffee is sourced from several different countries such as Ethiopia, Brazil and Indonesia, giving caffeine lovers a delectable range of flavours to treat their taste buds. Another unexpected perk of Trial Coffee is its unique loyalty card, which is reminiscent of a train ticket and makes for an adorable souvenir.
Trial Coffee, GO1, 7 Fleming Road, Wan Chai, Hong Kong
14/17 Kefi
Kefi's cosy and comforting atmosphere is thoroughly reflected through its distinctive name: a Greek word which refers to joy, spirit, enthusiasm, passion, and a love for life. The health-conscious cafe, situated in Kennedy Town, serves low-carb, low-sugar and low-calorie treats. On its menu: keto-friendly waffles made with almond flour and served with monkfruit syrup, as well as drinks such as cold brew coffee and red date latte.
Kefi, 165-175 Belcher's St, Kennedy Town, Hong Kong
15/17 Colour Brown Coffee
Indulge in Colour Brown Coffee's carefully curated selection of coffees, which come from all around the world and are freshly roasted each week. Alongside the coffee, try something from the food menu, which offers ramen, toast, muffins and more. The quaint cafe can be found in Jordan and can be easily spotted by its artistic wooden furniture.
Colour Brown Coffee, G/F, 10 Kwun Chung St, Jordan, Hong Kong
16/17 Hjem
As the second brand under the newly-formed Common Abode hospitality group, Hjem (meaning 'home' in Norwegian) continues in the same vein as sister restaurant Club Rangoon of highlighting cuisines less familiar to Hongkongers, this time by spotlighting co-founder Elin Fu's childhood home of Norway. Expect Nordic comfort food like smørrebrød (open-faced sandwiches) topped with Arctic prawn, asparagus, and Baltic herring, alongside classics like meatballs and mash, wiener sausages with French fries, healthy salads and Nordic cheese platters.
Baked goods and coffee will also be highlighted as specialties at Hjem—we're looking forward to pairing a honey milk golden latte with the giant cardamom bun roll—while group beverage consultant Chanel Adams has ideated a number of low-ABV cocktails in line with the cafe's ethos of clean living.
Hjem, 161 Hollywood Road, Sheung Wan, Hong Kong
17/17 Pane e Latte
Located in the laidback coastal neighbourhood of Stanley, Pane e Latte is a seafront all-day cafe and Italian panifico (bakery) where customers can enjoy fresh baked goods and a full range of sweet and savoury plates for breakfast, lunch, weekend brunch, aperitivo and dinner. Executive chef Stephane Vieux shares that everything is made with no additives or preservatives, and is "baked with the biggest dose of love". The menu boasts a wide assortment of Italian delights, ranging from signature pizzas to bombolonis, focaccia sandwiches and even cocktails.
Pane e Latte, G/F, U-c Court, 25 Stanley Market Rd, Stanley, Hong Kong